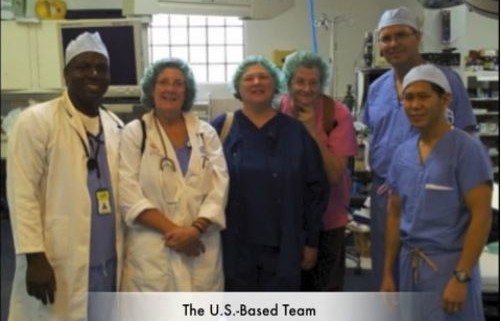 Overview
Thirty six patients were operated upon and three Haitian general surgeons were trained to do Pediatric inguinal hernia repairs and the adult Lichtenstein repairs for inguinal hernias.
Team
Cynthia Ferris, MD; Rachel Dowd, RN; Theresa Alvarado, RN; Bob Cusick, MD; David Chen, MD; Lesly Manigat, MD
HRFU-Haiti2012 from Charles Filipi on Vimeo.
Summary
The team, in conjunction with Dr. Paul Severson of Promise for Haiti, did an outstanding job operating upon 36 patients and teaching 3 fully trained Haitian general surgeons to do Pediatric inguinal hernia repairs and the adult Lichtenstein repairs for inguinal hernias. Eight demonstration cases with the trainee as first assistant were followed by 28 cases performed by the trainee with the proctor assisting or supervising. There was a consensus that Dr. Jeudy and Dr. Devidson are satisfactorily trained and ready to perform the operations but studies should be completed and mesh needs to be provided for their future repairs. Dr. Jean Luis needs to be encouraged to do more hernia repairs in the Pignon hospital. It was agreed that the Lichtenstein repair is a good model for teaching.
Dr. Filipi, president of HRFU has spoken with SafeStitch Medical and Davol and both have promised free 3" x 6" flat pieces of packaged sterilized polypropylene mesh. SafeStitch has 35 pieces and Davol will give 200 pieces through Americares with a possibility of providing more in the future. These commitments come from high level officials in both companies.
Data was kept on the operations performed and scores were tabulated on a new surgical technique rating form.  This will be utilized for further analysis and publications.
Possible Studies
Dr. Cusick, Dr. Chen, Dr. Manigat and Dr. Jeudy are now in discussion about hernia studies. Eventual presentations are expected with the intent of publishing findings on prophylactic hernia repair antibiotics and the development of hernia centers of excellence. Hernia Repair for the Underserved will assist these projects. It appears to be the intent of all team members to return to Pignon to provide follow-up and training of other Haitian surgeons. The overall project appears to be a success if we can now facilitate the performance of the operations by the trained surgeons and keep records to document use of the training provided.
Site Attributes
Pignon is the best place for a further course
Port au Prince is still dangerous
Sterilization is satisfactory
The CRNA Maseline knows where everything is and is very helpful
The road to Port au Prince when improved could change Pignon significantly