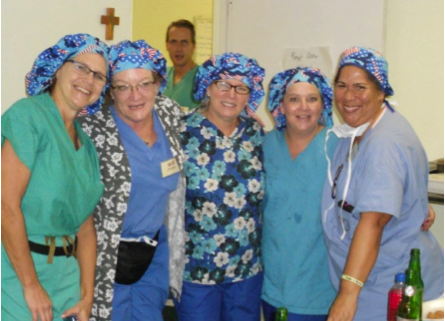 The most recent HRFU Dominican Republic trip was a huge success! Forty two US volunteers and many Institute of Latin American Concerns health care providers (cooperadores) and 4 Peace Corp volunteers cared for more than 200 patients. Two Dominican surgeons were trained as described below. One hundred and fourteen hernia operations and 18 lumpectomies were performed without complication and numerous other patients were examined and treated medically.
Surgeon Training
Two fully trained Dominican Republic surgeons were chosen–a Pediatric surgeon for Pediatric hernia training, and a general surgeon for Lichtenstein hernia repair training. Dr. Robert Cusick trained the Pediatric surgeon and Dr. Wolfgang Reinpold trained the adult surgeon. Both trainers used a validated surgical technique rating form designed by the University of Southern Illinois surgical department education division (with input from Dr. Filipi, Dr. Cusick, and Dr. David Chen of the UCLA department of surgery). The rating form is now being implemented in the U.S. for surgical residency training. The hernia rating forms are available upon request.
The rating form was reviewed and then the trainer performed the first operation and the trainee assisted. The trainee and trainer reversed their roles with following operations. The trainer then filled out the rating form in privacy then immediately reviewed it with the trainee giving him a numerical score and explanation for all of the step ratings. This was repeated immediately for four subsequent operation. Both surgeons passed with flying colors and Dr. Ramirez was given free mesh on condition that he would use it only on poor patients and that he would monthly fill out a spreadsheet on the patients receiving the mesh and send the spreadsheet electronically to Dr Filipi. Photographs below show the process.