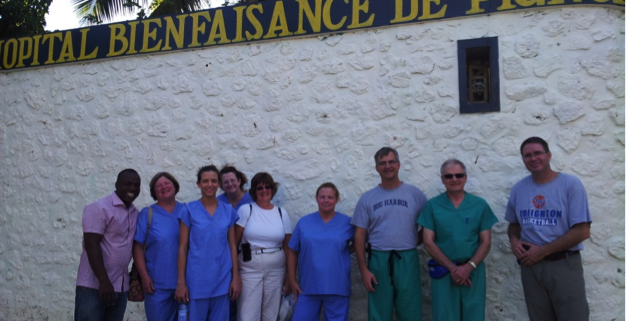 Pignon Haiti Hernia Repair for the Underserved Mission Trip summary
The team of Cynthia Ferris MD, Rachel Dowd RN, Theresa Alvarado RN, Libbie Choquette RN, Mary Drouillard RN, Bob Cusick MD, Bob Fitzgibbons MD, Hal Kaftan MD and Lesly Manigat MD traveled to Pignon via the ILAC center in Santiago Dominican Republic.  Here they are pictured upon arrival in Pignon.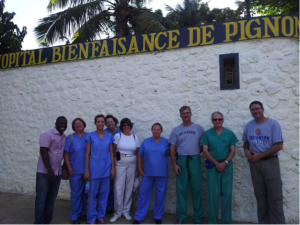 The purpose of the trip was to train two Haitian surgeons, Dr. Emmanuel Regis and Dr. Arlet Isma on Pediatric and Lichtenstein hernia repairs.  Unfortunately there were insufficient Pediatric patients (3) for training.  Dr. Cusick was able to do one orchiopexy on a patient with cryptorchidism.  Dr. Fitzgibbons, was able to complete 12 groin hernia operations with the trainees and was very pleased with their operative skills.  Both surgeons were given mesh and will be part of general plan for training many Haitian surgeons in the near future.  Below shows a training procedure.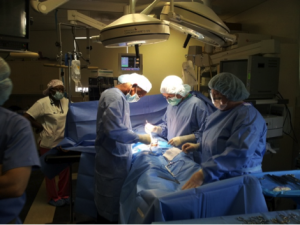 Data was kept on the operations performed and scores were tabulated. This will be utilized for further analysis and publications. An additional patient with multiple groin hernia recurrences was operated upon laparoscopically by Dr. Fitzgibbons.  See below.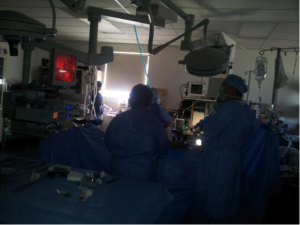 Plans for future training include:
Signing a memorandum of understanding between HRFU, the Haitian Surgical Association and the Haitian government for extensive training of Haitian surgeons in Pediatric and adult Lichtenstein repair
Training the trainees on how to teach the procedures to other Haitian surgeons
Eventually publish results of the training program featuring the benefits of the rating forms and feasibility