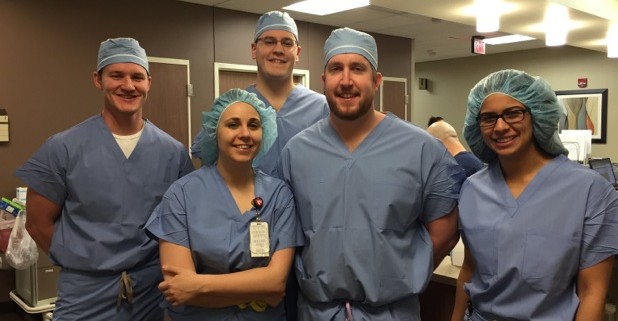 University of Nebraska HRFU Hernia Mission 2015
Through the auspices of the University of Nebraska Medical Center (UNMC) and with the help of Dr. Filipi 3 surgeons, Dr. Sammy Cemaj the team leader, Dr. Keely Buesing and Dr. Vishal Kothari and Dr. Allyson Hascal chief of Anesthesia performed free hernia surgery on 13 in need patients.  The patients had no Medicare, Medicaide, private insurance and all lived at or below 200% of the poverty level.  Dr. Hans Dethlefs, a family practice physician at the One World clinic, coordinated recruitment of patients from area free clinics and performed all pre-operative history and physicals.  Mrs. Penny Johnson RN, coordinated patient care at the medical center and communication between patients and physician offices.  Multiple administrative meetings were conducted which included Mr. William Dinsmore the CEO of the UNMC system.  The surgeons saw the patients pre-operatively in their clinic, confirmed the diagnosis and obtained informed consent.
On February 27 at the Bellevue Medical Center all patients with family members arrived early for admission and then throughout the day surgery was performed in three operating rooms.  Third year medical students participated and first assisting in the ORs.  All surgery was completed by 2:30 PM and no intra-operative or early post-operative complications occurred.
Patients will be followed in the surgeons offices, in 7 -10 days and at one year.  Below are pictures of the students and surgeons.
The initiative went smoothly and the patients and families were well pleased.  A number of team said when are we going to do this again.